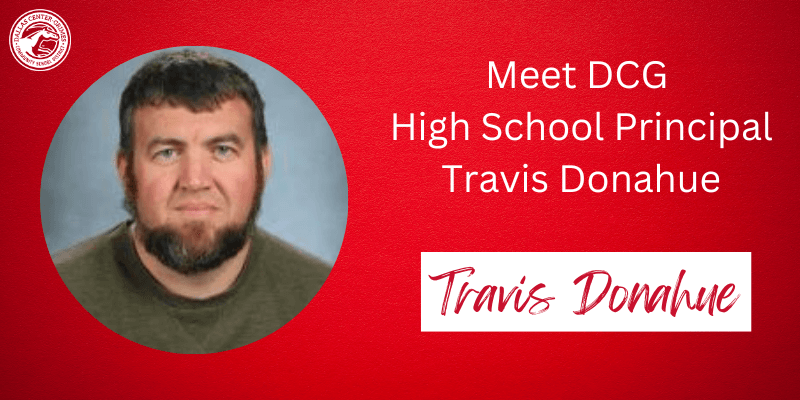 Travis Donahue started his work as DCG High School Principal in the 2023-24 school year. Donahue has served DCG in several roles, most recently as the assistant principal at DCG High School. Donahue was first hired by the district in 2007.
"DCG has been my professional home for the last 16 years and I'm incredibly thankful for each and every experience that has led to this day," Donahue shares. "Dallas Center- Grimes holds a special place in my heart and I can't wait to serve our students and staff as principal.
Donahue graduated from Waukon Senior High in 2000 and then went to North Iowa Area Community College in Mason City to play football and earn an AA degree.  After graduation, Donahue began coaching varsity football and wrestling in Waukon, which motivated him to pursue a degree in education.  Donahue completed his undergraduate degree in Industrial Technology Education from Upper Iowa University in May of 2007. He later completed his Masters in Education from Viterbo University in 2010, followed by the completion of his Administrative License program at Viterbo in 2015.
Donahue joined the DCG team in 2007 as an Industrial Technology Teacher. His tenure in the classroom was highlighted by the completion of one residential house each year. His class built six homes in Grimes and one in Dallas Center.  Donahue also felt a close connection with DCG's at-risk students, which fueled his interest in the At-Risk Coordinator position at DCG High School. Donahue was able to work with students who were struggling with behavior, attendance, and academic issues. Donahue worked with district administration to improve policies to support all students and to help find ways to connect students to school.  Finding a path to success for students also played a key role in Donahue's transition to the Dean of Students position and soon after into the role of assistant principal. Donahue has held this position for the last two years. He's also spent time on the coaching staff of the DCG football and wrestling programs.